The WhatsApp development team has just begun the deployment of the upgrade to version 2.22.8.8 of WhatsApp Beta for Android to users who have joined the application's Beta Program via the Google Play Store.
This latest version of WhatsApp Beta offers beta testers, two intriguing previews: the first is the addition of new emojis, and the second is the global audio player.
The Oraimo Smart Watch OSW -16: The Ideal Holiday Gift [2022]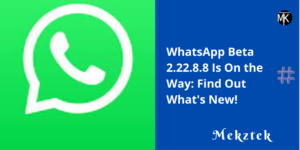 WhatsApp Beta 2.22.8.8: New Emojis Arrive
WhatsApp Beta 2.22.8.8: New Emojis Arrive With WhatsApp Beta version 2.22.8.8, the new emojis of the current Unicode 14.0: it's around 37 new emojis, including a slide, a wheel, a life preserver, and many more that are more or less problematic.
In addition to the new emojis, several emojis now enable skin tone combinations (such as handshakes).
These two emoji-related innovations, seen in the image below, are accessible to all users who install the most recent WhatsApp beta for the Android version. WhatsApp Beta version 2.22.8.8 is the first to be listed as compatible with the functionality.
The Global Audio Player Is Getting Closer And Closer To The Stable Version Release
The WhatsApp development team has begun the progressive deployment of the global audio player to all beta testers of their messaging app, after debuting it a couple of weeks ago with the 2.22.7.11 of WhatsApp Beta being sent to a restricted number of beta testers.
As evidence, the new player appeared in the Beta version of WhatsApp Business, as reported by the specialized portal WaBetaInfo, and it appears to be available to anyone running WhatsApp Beta 2.22.8.7 or WhatsApp Beta 2.22.8.8 (or Business counterparts), versions marked as compatible with the new functionality.
The news is being distributed gradually on the server side, as is customary in these situations, and not everyone may hear it at the same time. The fact that it has been expanded to a larger number of beta testers is surely a crucial step toward the inclusion of the global audio player in the stable version of WhatsApp, which might come as soon as the next few weeks.
How To Download The New Version 2.22.8.8 Of WhatsApp Beta
If you want to check out the new features in WhatsApp Beta version 2.22.8.8 for smartphones running the Google Android operating system, go to the Google Play Store and sign up for the Beta Program (you can find the page dedicated to the program by following this link for WhatsApp and this link for WhatsApp Business).
If the Beta Program was temporarily full but you still have the curiosity to try out the latest versions of Whatsapp you can proceed with the manual installation of the related APK files, downloadable from the portal APKMirror (whose dedicated page can be reached by following this link).