The use of smartwatches is undeniably becoming more widespread in recent years. As a result, many individuals now prefer digital timepieces to conventional watches. These smartwatch enthusiasts are interested in a variety of topics. The most crucial aspect is its ability to operate as a health and activity tracker.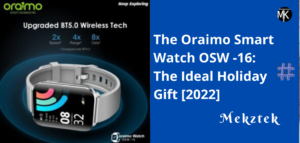 There are various brands that manufacture smart timepieces for the Nigerian market. Oraimo is recognized as one of the leading firms in this respect. Transsion Holdings, the same company that owns TECNO, Itel, Infinix, and Carlcare, owns this Chinese brand. The latter is the Technical/Customer Support Body of the group, but it is not involved in production.
Oraimo Watch is what it is! It's a timepiece that will have a big influence on the wearer's life. It keeps kids on track with their timetable, expresses their feelings, and is certain to please them. The Oraimo Watch is presently available, and I believe it is an excellent gift for anyone who wants to make the most of their time.
Prices and Reviews for the Oraimo Silver Edition 1.69″ IPS Screen IP68 Waterproof Smart Watch [2022].
Oraimo's store features a vast assortment of smartwatches. We'll examine the Oraimo Watch 1.69″ IPS Screen IP68 Waterproof Smart Watch's build quality. Do you want to find out if this is the wristwatch for you? Let's have a look at its amazing features and low price:
The features of the Oraimo Smart Watch OSW 16
The first differentiating characteristic of the product is its 1.69″ IPS screen with vibrant colors and a touch panel for easy operation. It links to your phone to give a variety of features, such as checking notifications and controlling music from your wrist without having to pick up your phone.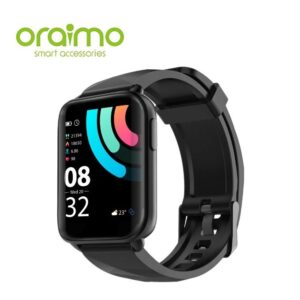 To monitor heart rate more precisely, the upgraded LEDs and four photodiodes operate in tandem with modern AI algorithms. When the heart rate is abnormal, a warning is sent.
Because your steps, distance, active minutes, and calories burnt can all be measured, every move matters. Provides you with gorgeous alternatives of the most recent faces ever, or you may show off a snapshot from your phone's album—for a face as unique as yours.
It allows you to track your deep, light, and awake periods in order to improve your sleep quality.
The Oraimo Watch is splash, water, and dust resistant to IP68 standards, so you don't have to worry about water splashes or unexpected rain.
The silky, skin-friendly TPU strap makes it easy to wear. The Oraimo Watch is ideal for going for a run or heading out to dinner. It's thin and light, and you'll never want to take it off.
The back panel is manufactured using phone-grade workmanship that embeds the print into the PET film, resulting in a scratch-resistant and glossy finish over time. Use the watch in conjunction with the free APP to set the objective and collect statistics to view the broader picture. A bezel is not required with curved glass.
The Oraimo Smart Watch is highly beneficial in the area of Health Tracking; as a female, use your watch with the app to follow your cycle, track your ovulation, get reminders, and more. This feature is only available after you've set the gender to female, enabled notifications, and synced your watch with the Joywear 2 APP.
The Oraimo Watch comes with Bluetooth 5.0, which offers a wider range of up to 66 feet and can deliver more data at a quicker pace while consuming less power.
When it comes to the battery, owing to the Power-Saving technologies utilized throughout the system, it can keep you going for up to 15 days on a single charge!